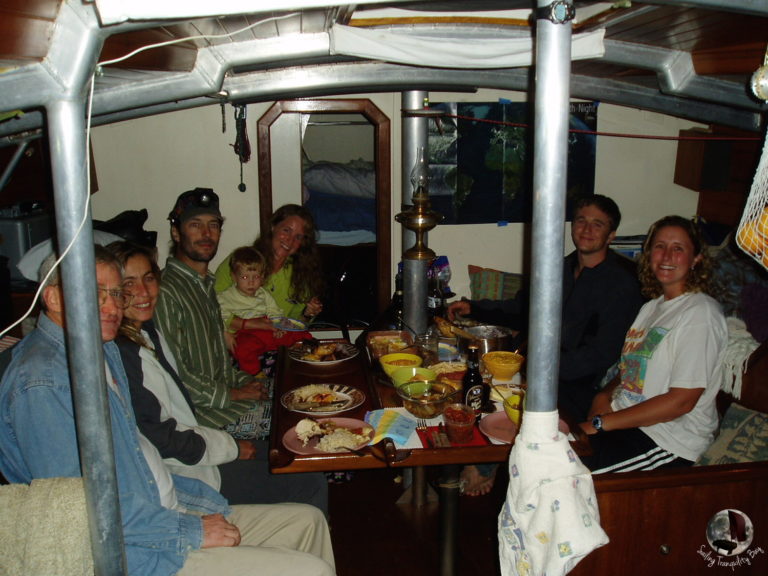 One of the features that I loved about our boat when we purchased it is the 6 ft long salon table. I imagined having guests over for drinks and dinner in remote anchorages and having plenty of room to spread out with the leaf in place. I also envisioned myself getting lots of sewing projects completed on the nice large workspace. We had looked at so many different boats when we first started shopping and the one thing I always thought was that the smaller tables were so impractical.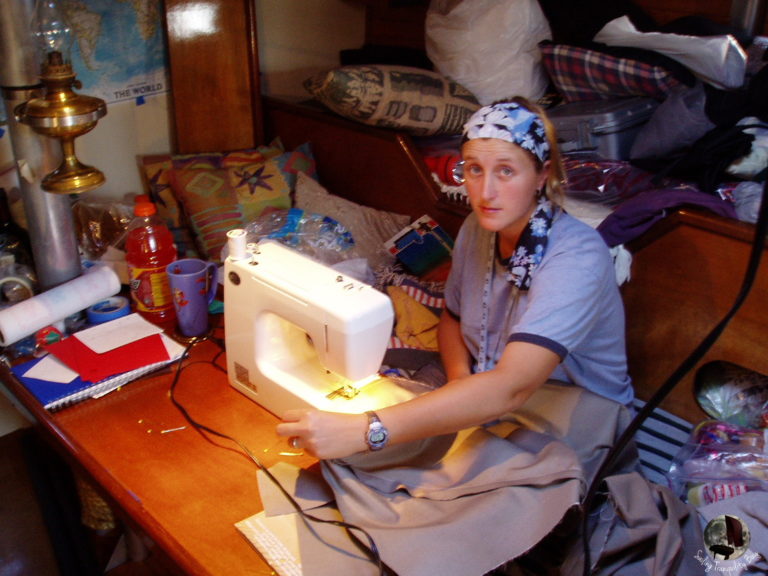 Fast forward 5 years and my love of the table was over. When we did have dinner guests we usually ended up in the cockpit with plates on our laps because it was too warm below, especially in the Caribbean. When we did come inside the table was huge and it made squeezing in uncomfortable at times.
What it was used for however, was a storage place for everything that should have been put away. It was the only large flat surface in the boat so it became the workbench, cat perch and storage location for everything. Usually, there wasn't even room for a dinner plate because there was always a project in motion.
I had a hard time with the table corners, especially while underway. The table edge was right at hip level and in order to get to all of the wonderful new cabinets we installed I had to maneuver behind the table to access them. Boat bruises are just part of life for me, but the table was giving me so many bruises in bizarre locations that I was starting to worry what others might think.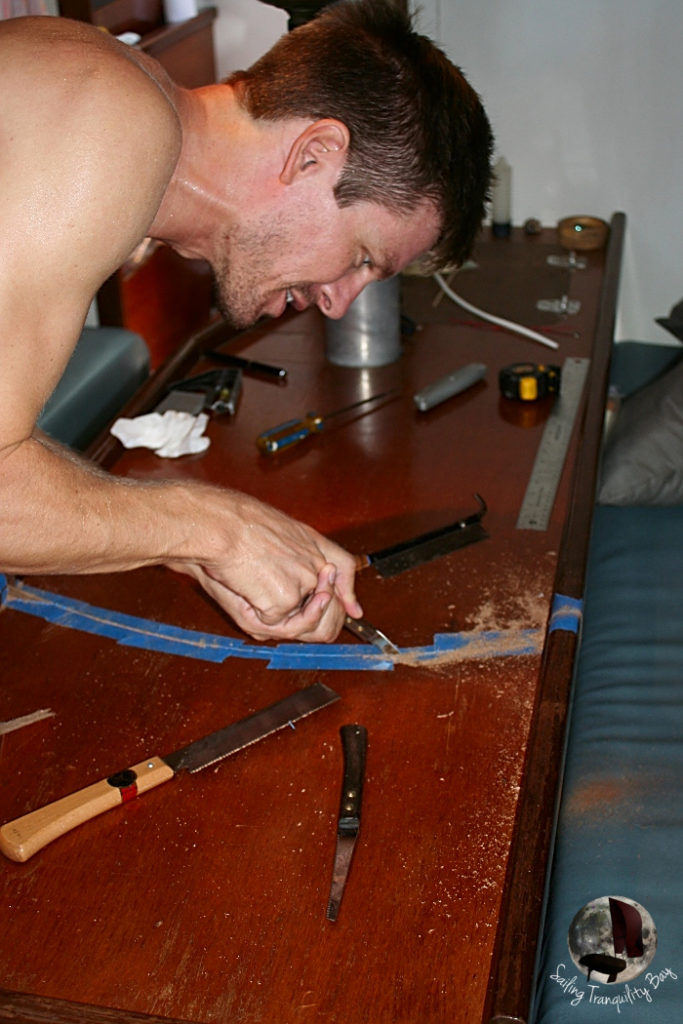 By the time we hit Guatemala we had had enough of the large table. Armed with a steak knife saw and a Japanese pull saw, Scott started to work his magic. I was still unsure of this drastic measure, but he convinced me that it would all be okay and that we would have to be more orderly if half the table was gone.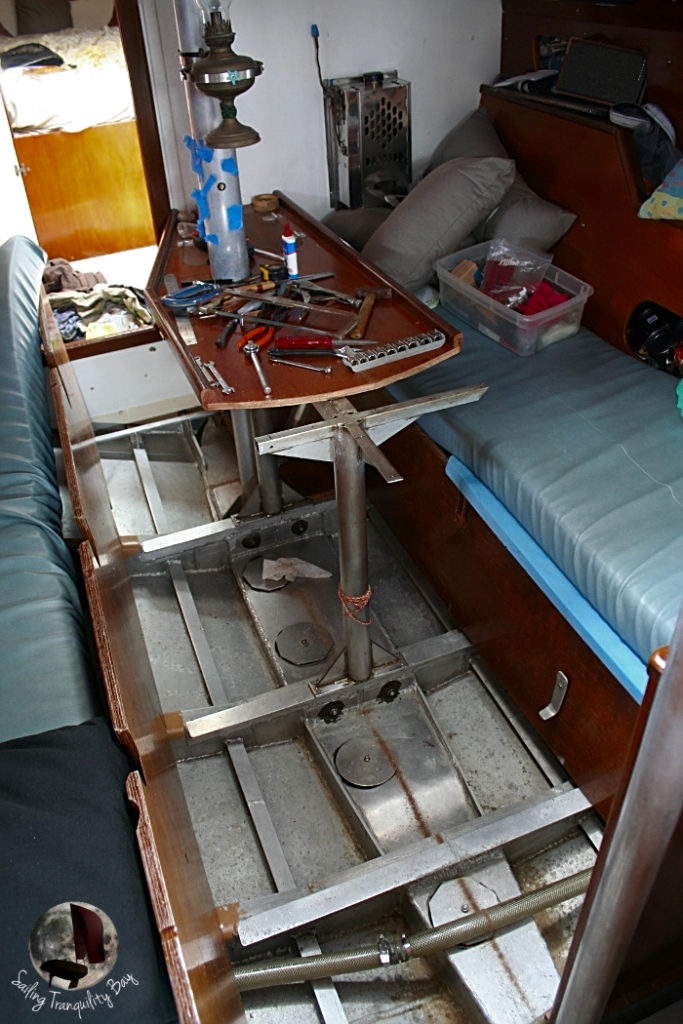 The old table was supported by two substantial stainless posts that were joined by a rail in the middle. The leaf was supported by rails that slid out of tracks and now with the shorter table we were going to have to figure out how to reconfigure it all. Fortunately, through some friends we met an American Ex-pat that had a complete machine shop in his jungle hideaway. After a few trips back and forth to the boat to try things out we came up with a new and improved support that allowed us to eliminate the second post.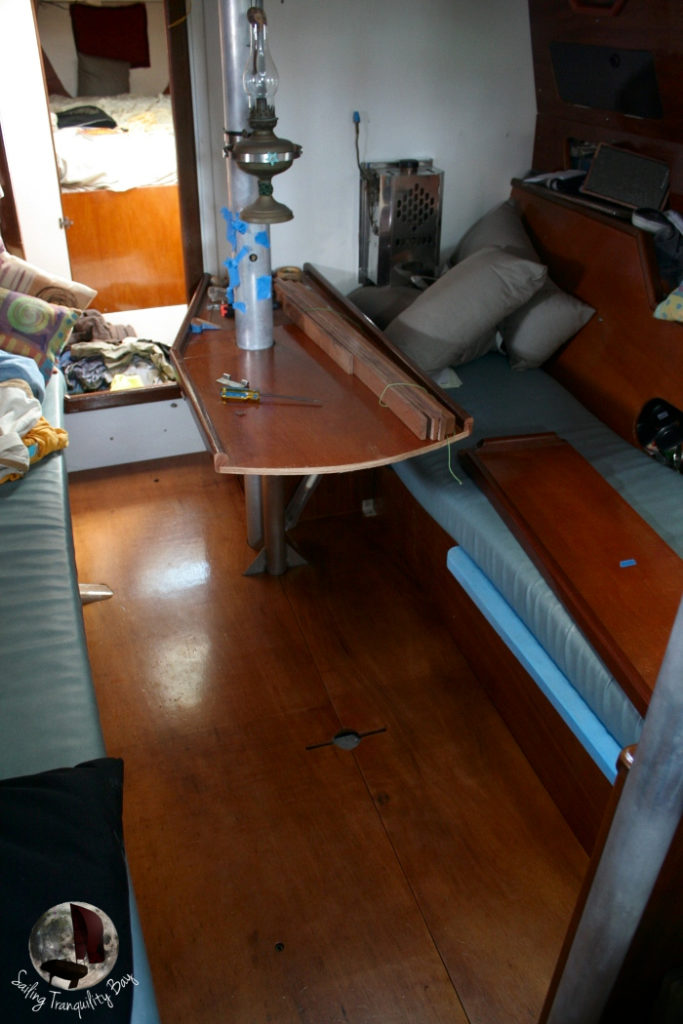 We now had a functional table with no corners to beat me up and much more space to move around in. The only problem was that we never got around to putting a fiddle back on the end of the table or refinishing it so it was just another half completed project. So remember the wood that we had left a decade ago for Scott's Dad that was still in his basement? Yup, my request for a spice rack not only turned into new cabinet doors, but it also became a new table, shelves, bookshelves, and other storage containers.
Since we weren't planning on making all kinds of new things for the boat on our road trip home, we never made any measurements of what we had. What we did know though was that 2 Correlle dinner plates almost fit across from each other and that place mats were snug. So I hopped online for plate dimensions and snagged a few different size place mats from the in-laws and off to the drawing board we went. We glued up planks of all the different wood we left and brought it all back down to Florida with us. Amazingly, we were only 1/2" off of the old table dimension- pretty good guesswork!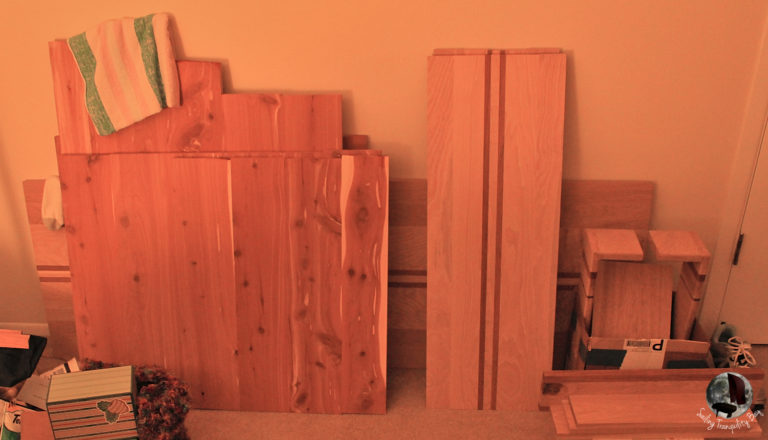 The cedar we had saved for a hope chest and some beautiful quarter-sawn oak that was going to be a headboard for a sleigh bed we were going to make when we were back on land became our new cabinet doors and table.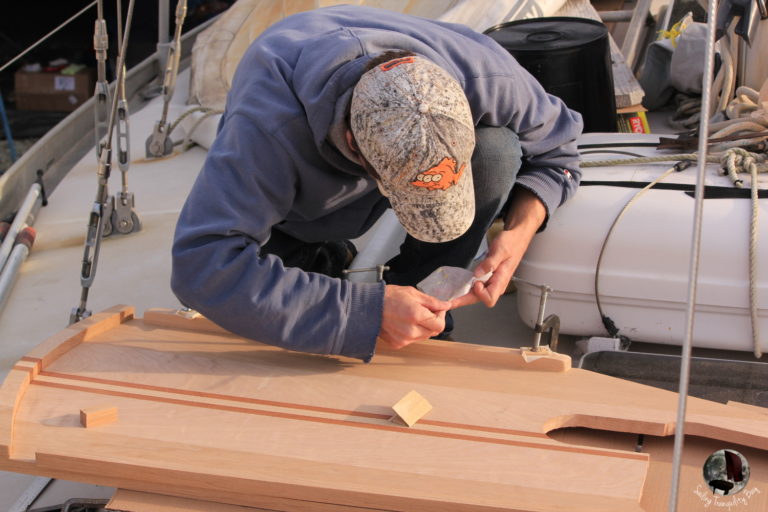 Scott dove right into shaping the table while we were hauled out to paint the bottom.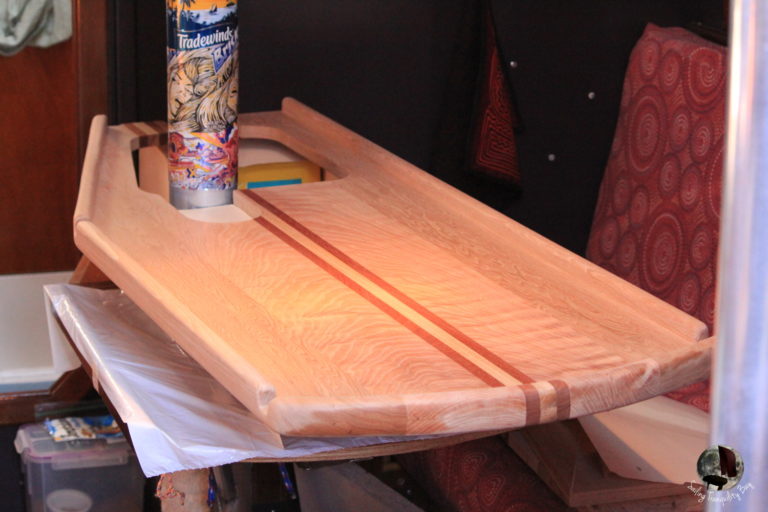 Trying to get the fit just right.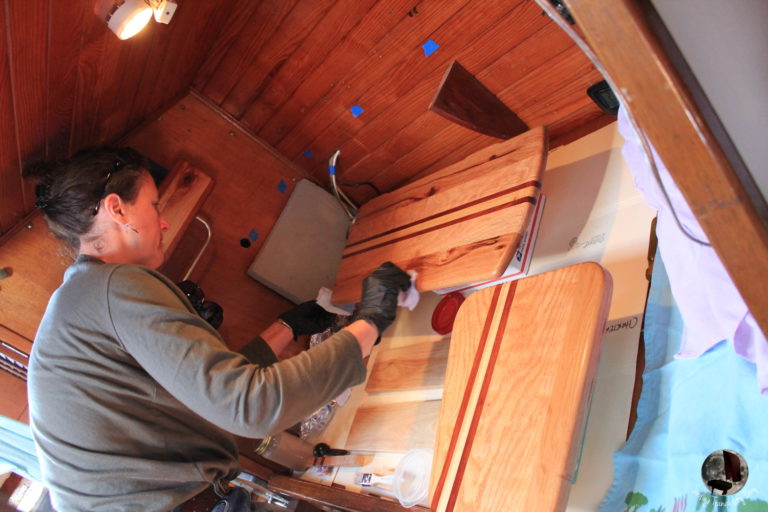 Applying the finsh work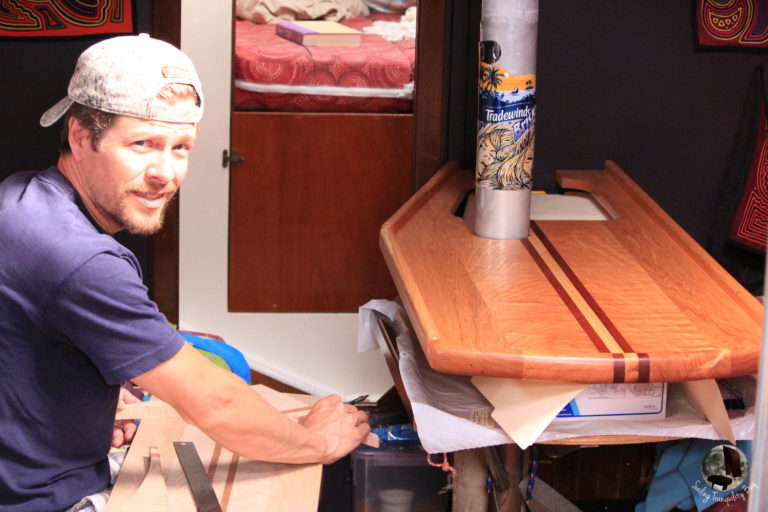 Almost completed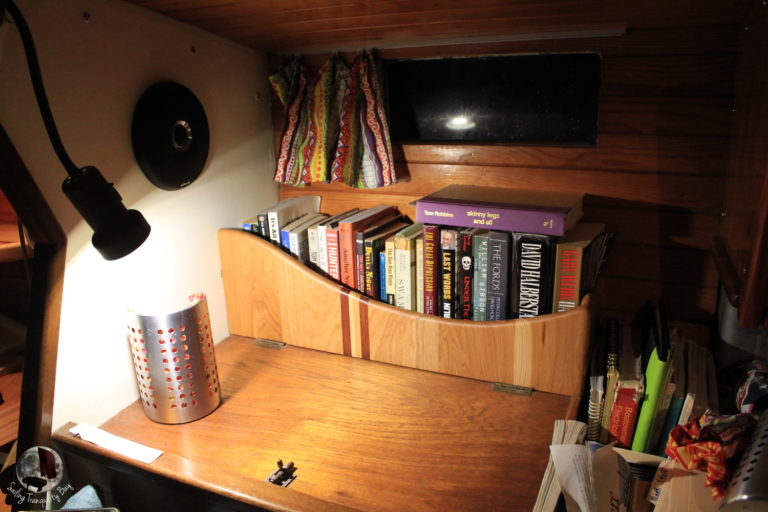 The end of the table became a new bookshelf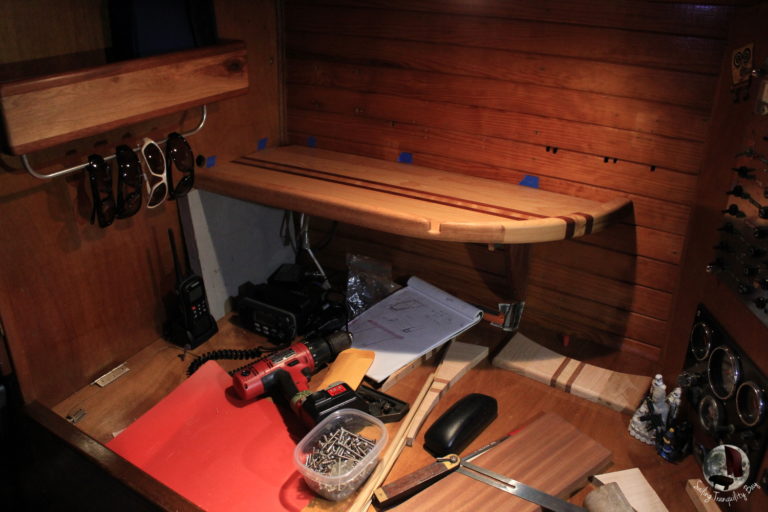 Shelves and more storage for the navigation station
We made the table longer than necessary and we couldn't just toss out the end so with a couple more pieces added it became a new bookshelf.
Now that we have all of these beautiful new pieces added into the boat the rest looks pretty old and shabby. So my request for a spice rack has now resulted in a complete refit and remodel that has spun out of control. We have a whole lot of work ahead of us still, but we did miss remodeling houses and actually finishing projects so once this is behind us we will have a completely different boat.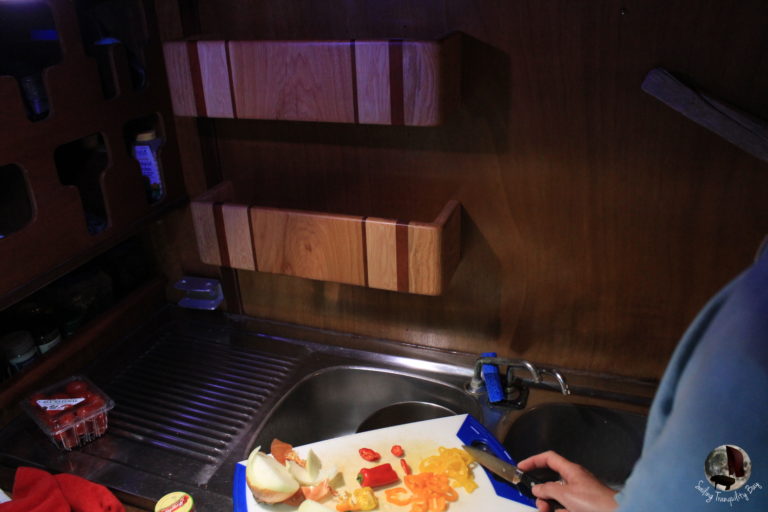 This all started because I asked for 1 spice rack!