Everyone always told us to just go. You can work on projects underway. Cruising is just fixing your boat in exotic places. Well, we took some of that advice and after fixing the "major" stuff we took off in our unfinished project boat. That resulted in us searching for parts and supplies in over 20 countries and usually coming back empty handed.
  We learned to be resourceful, for instance we broke a sea-cock in Venezuela and didn't have a spare. We spent multiple days hitching rides into the closest town to catch a long bus ride into the larger cities to try and find any fix. Every shop we went to usually didn't have anything and the few that did only carried bronze parts, which we can't use since we have an aluminum hull. So the fix was a rubber cork pounded into the outside of the boat and filled with silicon goo on the inside. We traveled for several months this way until my parents flew in to visit us in Curacao. They were kind enough to bring a huge duffel bag full of spares for us.
  We have been sitting still working on this refit now for over a year and as much as we would like it to be done, we have to admit that sitting in one place, with a car, in la la land has had its benefits. Since boat work descriptions can be a bit boring I decided to put together a photo essay of our interior refit that started back in Feb 2008 in Puerto La Cruz, Venezuela and we are finally finishing it now. Actually, we are finishing the stuff from long ago and have added a whole lot more to the list that never gets shorter.
  Our boat was very spartan when we bought it. It had 8 berths and no cabinets. Everyone that we showed our new home to asked, "Where are you going to store your stuff?" to which we replied, "There's tons of space under all of the berths". It took us several months to realize that our storage situation was less than ideal. We sort of just had a sift method of organization. We would pack everything under the berths and eventually it would settle into place. Inevitably, whatever you needed was always under everything. So in Venezuela we discovered a cheap marina in a big city and decided to build some cabinets. How hard could it be?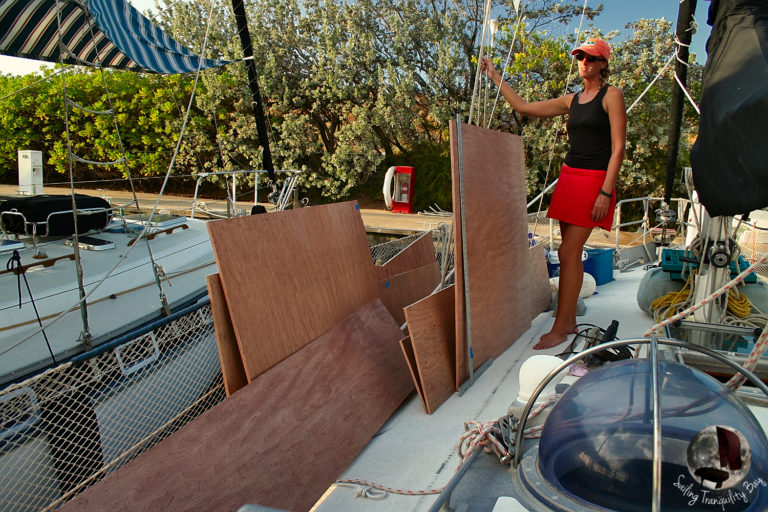 We loaded all of this wood onto the top of an old Impala and hung on tight.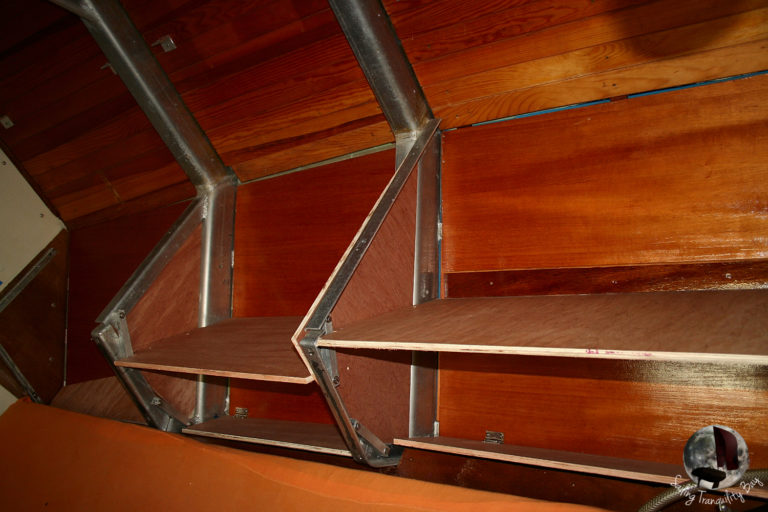 Dividers under the starboard salon berth that was transformed into cabinets.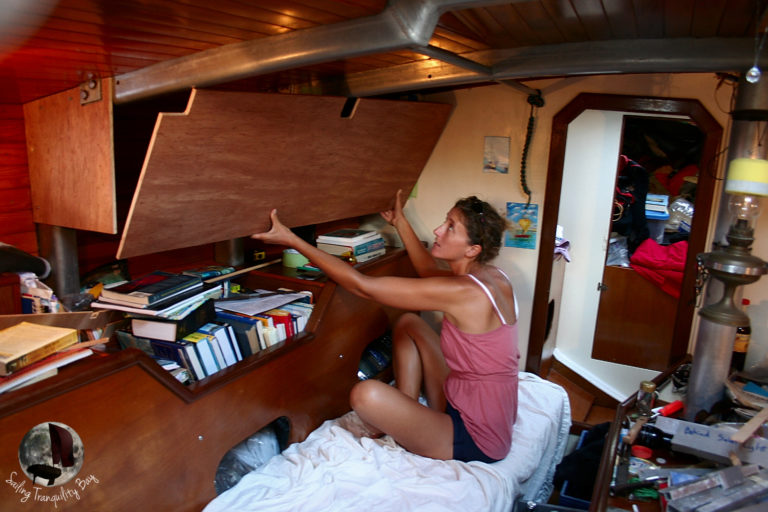 Nothing on a boat has a right angle.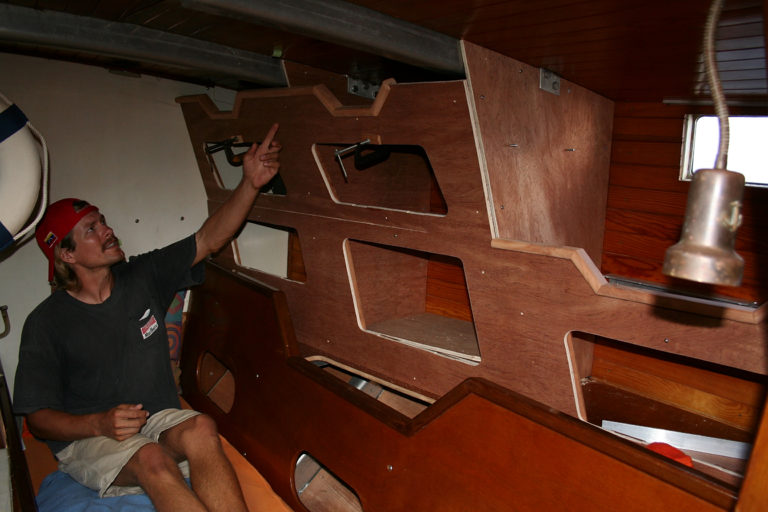 Starboard berth is now cabinets.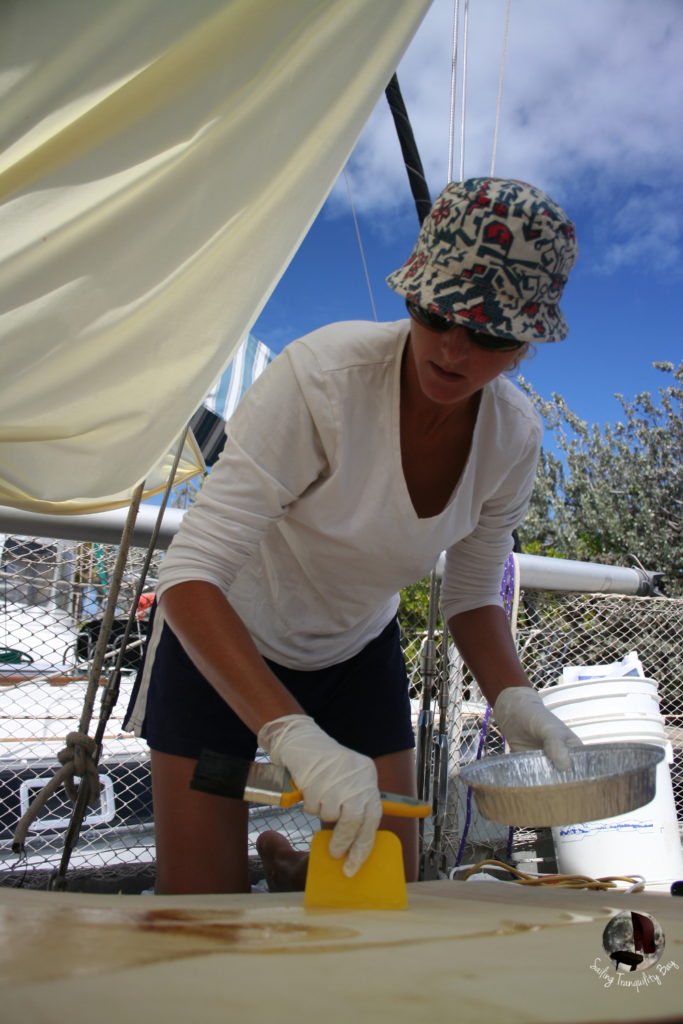 Epoxy and varnish for all of the pieces.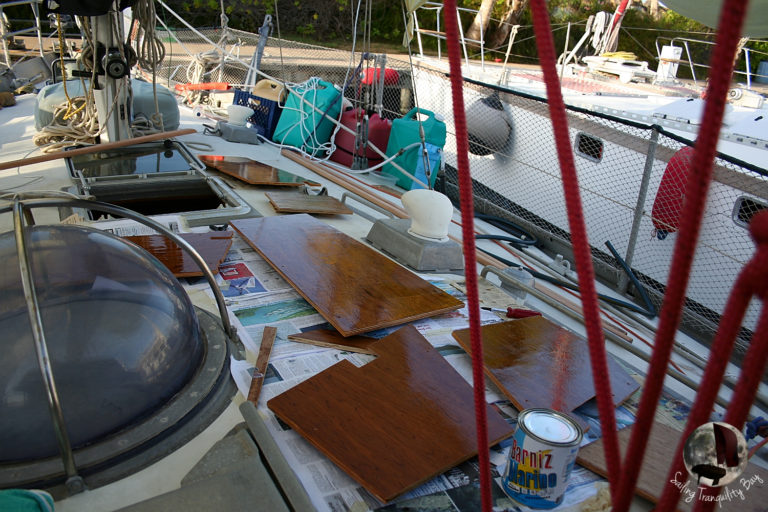 Drying Space was at a premium.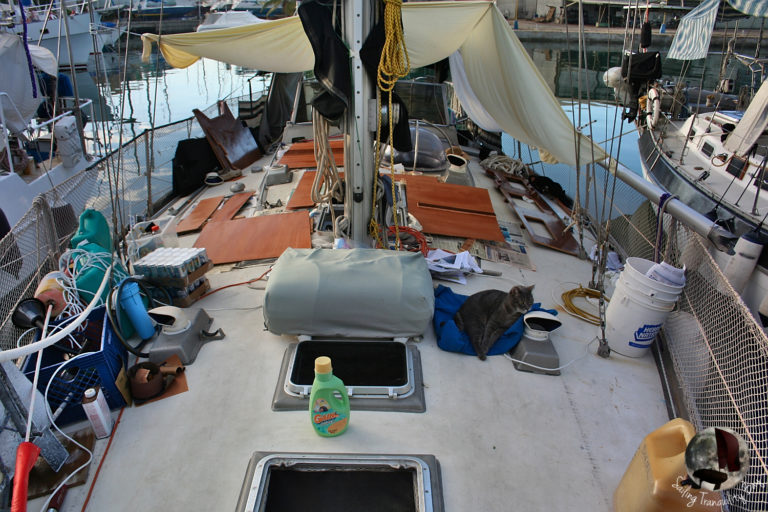 Charlie didn't mind.
We spent days hunting down stainless nuts and bolts. When we did find some there were never enough so we would be sent off to another part of town to find more. Epoxy was abundant everywhere in town, but after trying it out we discovered that it didn't cure so we had to start over. After months of scheming and building we finally had a lot more storage and it was all organized and tidy. We were able to pack so much more food on board and when we needed to find something with all of the dividers under the berths we didn't have to sift through everything to get what we needed.
We were never happy with the doors for our cabinets. We used the inserts that we cut out and tried a steel wool/vinegar dye on them. They were functional, but not exactly what we wanted. A couple years ago we took a road trip to visit family and friends. When we sold our house and left on our big adventure, Scott had given his Dad a bunch of wood from his workshop and a decade later it was still in his parents basement. So we glued it up into panels and brought it back down with us. Scott got busy right away with his makeshift workbench on the pier and made us some beautiful cabinet doors.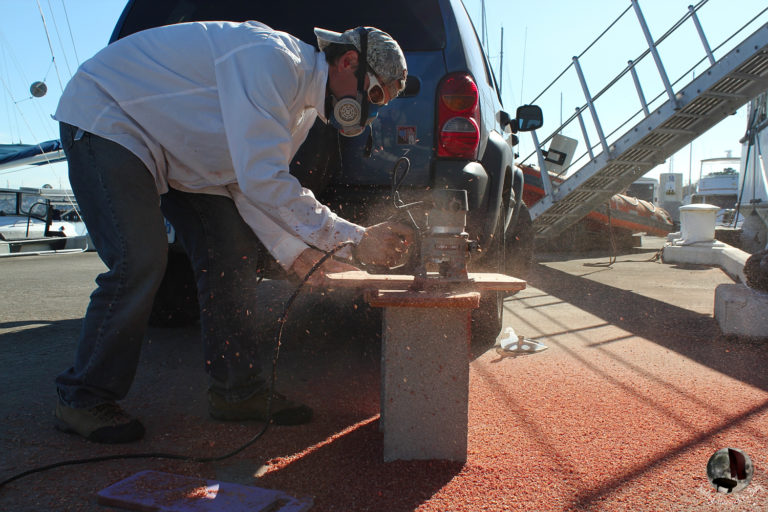 Scott works his magic on his improvised work bench.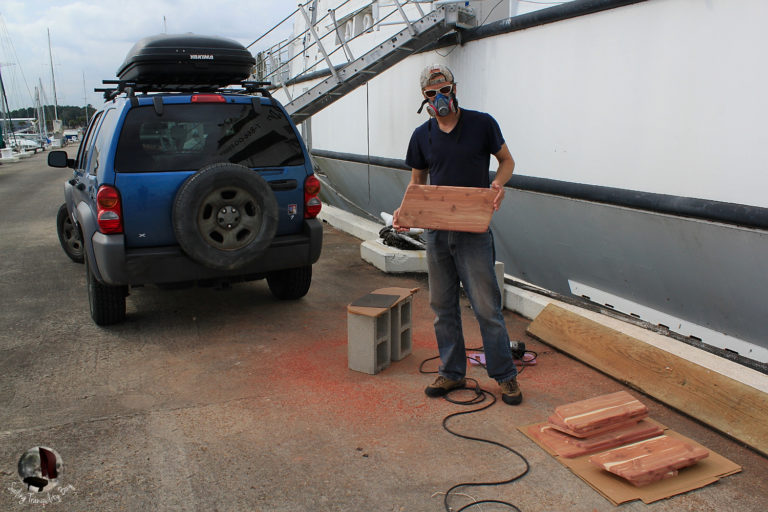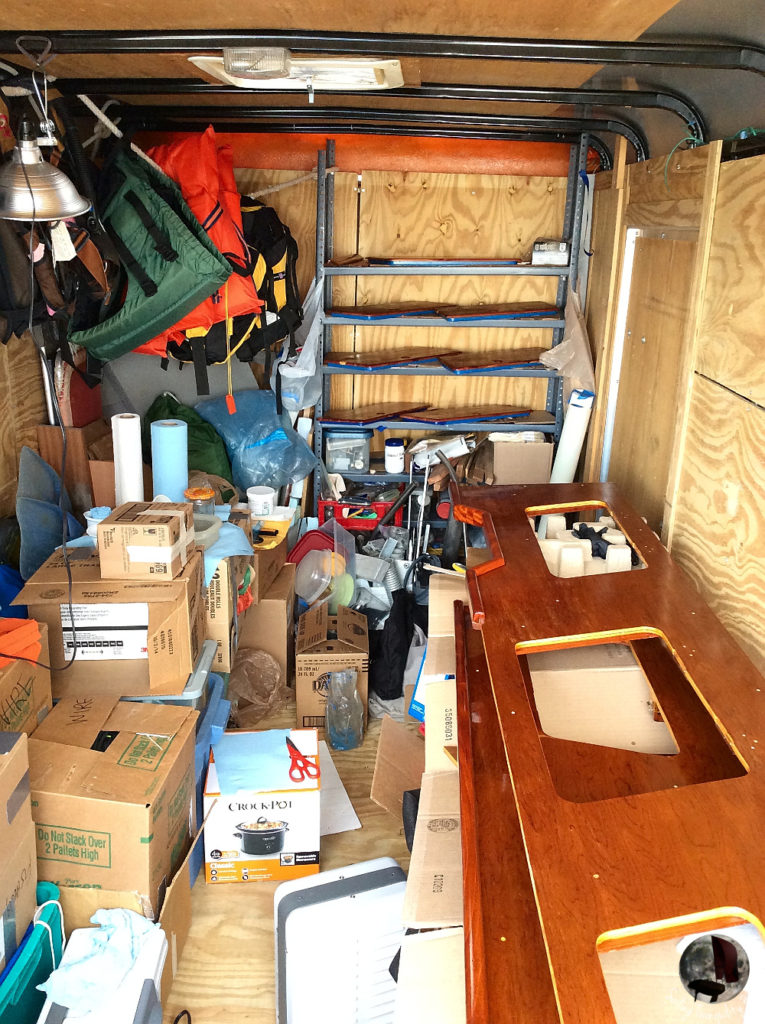 We purchased a trailer to help with working space.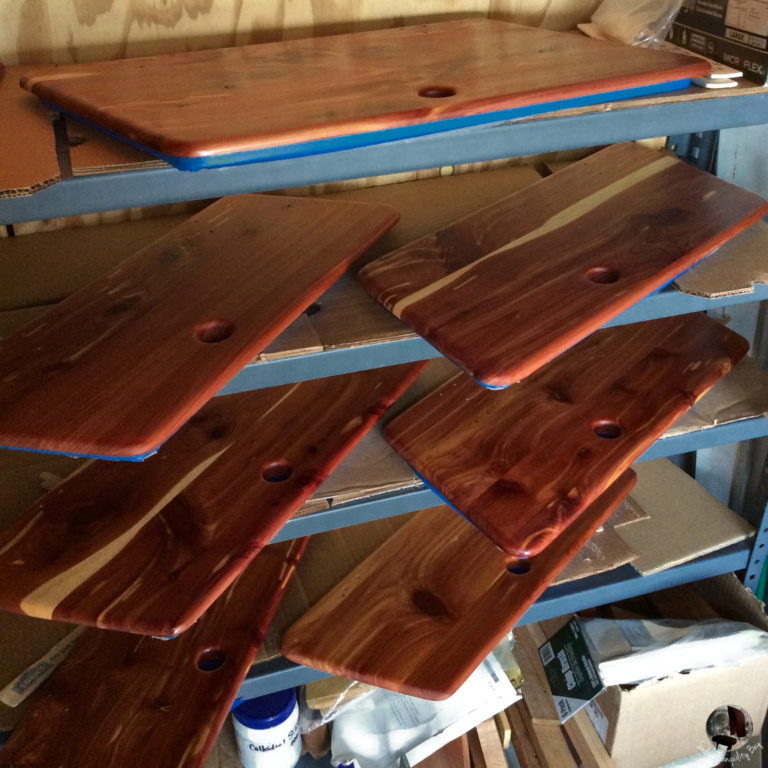 One of many coats of varnish.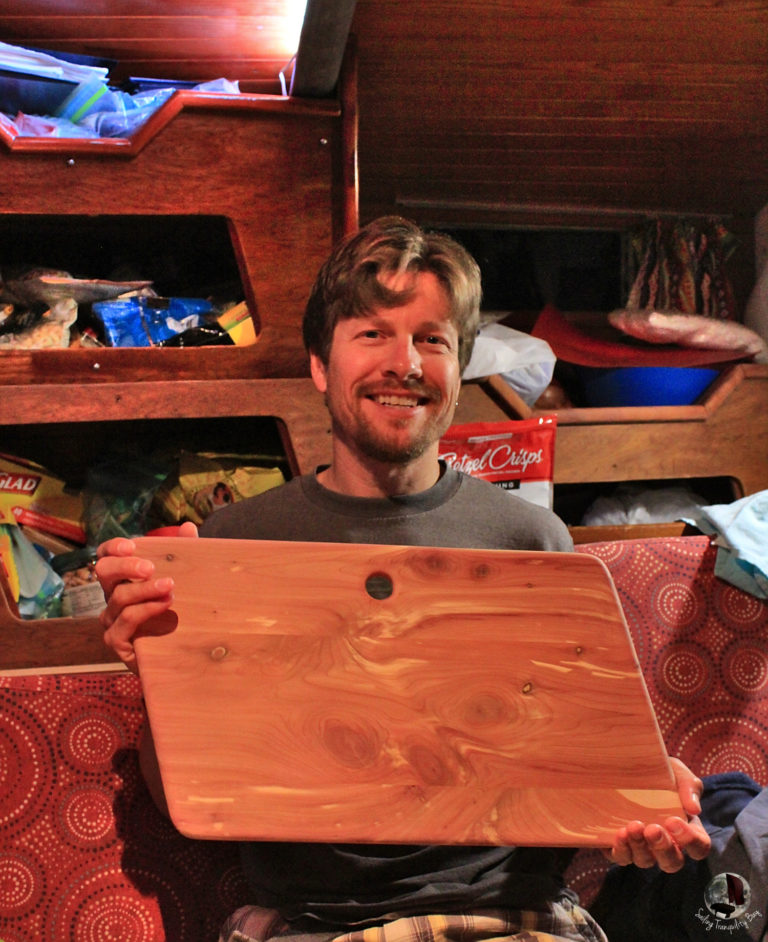 Okay, so that project only took us 8 years to finish! Now we have pretty doors to hide all of our stuff crammed in those wonderful cabinets. Turns out all of those people were right, you need lots of places to put your things on a boat!